[This is part five of a multi-part series on the soft-pedaling of homosexuality in the conservative churches.]
The Nashville Statement: A Coalition for Biblical Sexuality is in many ways a needful and alluring public declaration even as it is misleading and ambiguous in its pronouncements.
The necessity of this kind of public statement is set out carefully in the preamble. The church is in a "period of historic transition" concerning fundamental creational realities. Marriage, sex and gender are being redefined at a breath-taking pace. Secularism is the beast scratching at the Church's door. And it will take "biblical conviction, clarity, and courage" to bar the door.
Its allurement is in the many truths it pronounces, truths shrilly denounced by the usual suspects in society. Marriage, chastity and fidelity is forthrightly affirmed. The differences and dignity between men and women are affirmed as well. Gender roles ("self-conception as male or female") are set forth in opposition to transgender and homosexual deviancy.  There is a call for the killing of sinful desires and a holy life before God.
The allurement of this statement is also in its public nature and the public figures who signed it. It is good to declare the truth of God's Word publicly and collectively. It is preferable for a formal church gathering to do such, but this is the age in which we live.
Yet the allurement of a public document about pressing issues signed by public figures is unhelpful as well. It is unhelpful because it hints at a possible compromise within the declaration. When well-known pastors from disparate theological convictions gather to write a public statement, disagreements are sure to be minimized or buried.
Consider the most obvious example of part of Article 8:
"WE DENY that sexual attraction for the same sex is part of the natural goodness of God's original creation, or that it puts a person outside the hope of the gospel."
This denial is undeniably true. But its silence is deafening. It is silent on the basic question of whether or not homosexual attraction is a sin. A public declaration about the sexual sins of our age must start with an answer to this question.
Instead, this article leaves too many questions unanswered.
If same-sex attraction was not part of the original creation, is it like sickness and disease that came after the fall? Is homosexual attraction like blindness or Paul's thorn in the flesh as one pastor suggests? Is same-sex attraction merely a temptation as another pastor thinks? If it is a temptation or like a sickness, is there any moral culpability? What is attraction and its relationship to desire? How does it relate to the biblical category of the flesh? And if it is a sin, is it a heinous sin in comparison to other sexual sins?
Different answers to these urgent questions result in different approaches in dealing with sexual deviancy. If same-sex attraction is a consequence of the Fall like blindness but is not a sin to be repented of, how should Christians deal with it within themselves and among others? Should the Church expect homosexual-tempted Christians to kill the attraction? Should they be counseled to be heterosexual and marry? Is a celibate lifestyle feasible? Or should the Church expect little to no change, teaching such Christians to persevere like a blindman who accepts blindness but expects no change?
But these questions do not exhaust the matter.  If same-sex attraction is sin, what does repentance look like? What if they struggle with it the rest of their lives? Does this mean they cannot be church leaders? Should they even talk about it publicly? Is homosexual attraction a heinous sin? Can the church be a safe space for those who fight this inward desire while proclaiming its heinous nature? What does that practically mean in the church life? Should parents kick their gay children out of their home?
And the questions pile up.
If same-sex attraction is likened to something being broken inside, then are they not more a victim than a perpetrator of sin? Should the church not pity them instead? Should not the church eschew anything that would undermine them, like homophobia? If same-sex attraction is like being born with blindness, is child or animal attraction the same? Maybe a transgender is just a broken soul who is not in sin unless he acts upon those desires?
Not answering these questions has practical consequences. Or rather the questions are answered already by more and more Christians and organizations.
For instance, several Bishops of the Church of England declared a goal at odds with those who think such attractions are sinful: "We call upon the Church and all its members to work to end any discrimination on the basis of sexual orientation, and to oppose homophobia." They also asserted: "At the deepest ontological level, therefore, there is no such thing as 'a' homosexual or 'a' hetrosexual [sic]."
Or consider one Evangelical organization's answer to the question of how to deal with homosexual desires:
"The focus on changing a person's sexual desires in order ultimately to change their sexual identity is the wrong way round. We believe it is essential to help people accept themselves as they are, just as God accepts us as we are. This will include accepting our sexual orientation, although it will also include accepting our God-given sexual identity as female or male."
This organization also denies that heterosexuality is the "normal sexuality which [homosexuals] are deviating from…'straight' sexuality is equally fallen from God's good original created purposes."
More close to home, if homosexual desires are not to be fought or repented of, but rather pitied and tolerated, then what should be done with a children's book normalizing homosexuality? One Christian book reviewer, although not promoting the book, described the story as "charming," "compelling" and "humanizing."
Naturally, these thoughts may seem too fantastic to some readers. The examples offered may be from fringe elements that have nothing to do with the Nashville Statement. So the omission in Article 8 is too theoretical a problem.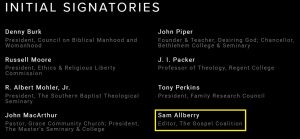 Except that one of the signers of the Nashville Statement is the founding member of the Christian organization that was quoted above.
This public declaration is good in many ways. But it lacks theological clarity. And this leaves the church back to where she started: is homosexual attraction a sin? If not, then what?
[In-depth research on the soft-pedaling of homosexuality at TGC and the Southern Baptist Convention's ERLC (Moore) here]