What is the connection between Russell Moore, the Southern Baptist Convention and the heinousness of homosexuality?
The ubiquitous Sam Allberry.
Sam Allberry is a minister in the Church of England. He is an editor at The Gospel Coalition. He is also a celibate, gay Christian. He stands up for traditional marriage. But he also contends that gay feelings—what he prefers to call "same-sex attraction"—are not a sin.
In other words, he denies the heinousness of homosexuality. But do Russell Moore and the Southern Baptist Convention agree with Allberry?
It is hard to say. But one thing is sure: Russell Moore, and through him the Southern Baptist Convention, have fallen into the same quagmire as The Gospel Coalition: using and endorsing Sam Allberry.
But first the backstory. Russell Moore is currently the president of the Southern Baptist Convention's Ethics and Religious Liberty Commission (SBC and ERLC respectively). This is the moral and public policy agency of the SBC.
He was a professor of theology and ethics at The Southern Baptist Theological Seminary. He is purportedly a Calvinist and is a council member of The Gospel Coalition. Both facts would lead unsuspecting Christians to think that Moore and the ERLC would promote a traditional view of original sin.
But that is not the case.
I have already detailed the gross theological error of Sam Allberry. And I illustrated the practical implications of this error with Allberry's misleading and worrisome review of a children's book about homosexuality.
Now more evidence shows that Allberry denies the moral culpability of inherent corrupted attractions, specifically "same-sex attraction." And with that evidence comes more pressure upon Moore, the ERLC and SBS to distance themselves from Sam Allberry.
Do they believe that the internal war of Romans 7 applies to Christians struggling with sodomy?
"But I see another law in my members, warring against the law of my mind, and bringing me into
captivity to the law of sin which is in my members." (v. 23)
Do they believe that this war is because of indwelling sin, the flesh, original sin?
"For I know that in me (that is, in my flesh) nothing good dwells" (v. 18)
Do they believe that the desires of the flesh are morally culpable as James asserts?
"But each one is tempted when he is drawn away by his own desires and enticed." (James 1:14)
Since Moore and the ERLC offer Sam Allberry's interviews as answers to questions of homosexuality, we have answers to these questions.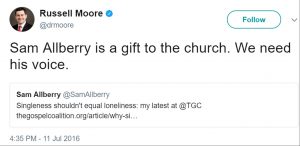 He believes that "sexual, romantic and deep emotional attractions" are involuntary temptations. Thus he is not sure what repentance would mean:
"I know they come from within and come from my own heart. But I do not choose to experience it…it is therefore hard to know what it means to repent of being tempted…as I experience temptation I want to say to the Lord, Help me, help me be faithful…deliver me from it. I don't like that I have these feelings, I don't like that I'm tempted in this way" (Can You Have A Heart Of Repentance For A Desire You Don't Control?).
Rather "sexual, romantic and deep emotional attractions" are temptations to sin—a temptation to act, in thought or deed:
"Those of us experiencing same-sex attraction didn't chose to. We don't, any of us, generally choose what kind of sexual desires we experience, they just happen…however we do need to say that we do choose how we respond to those desires. So it very well may be that if we experience same-sex attraction and choose to kind of run with those desires, we are, if you like, engraining those desires… we've not chosen the desires and we've not chosen to embrace them. We simply experience them and try to live faithfully…it's too simplistic and inaccurate to say people have chosen their sexual desires. But people may have chosen their sexual behaviors" (Why Is Saying "Same-Sex Attraction" Is A Choice So Problematic?).
Allberry asserts that these desires and feelings are bad but not morally culpable.
"I am not comfortable with the language that says same-sex attraction itself is sin. I recognize that same-sex attraction is not a good thing. The desires of same-sex attraction are not good desires. They would not have existed before the fall…they won't exist in the new creation…All us of are people who have the capacity to be tempted. That is part of what it means to be fallen. Jesus says we're not to seek forgiveness for that, we are to seek deliverance from those temptations…I think if you say to someone that their same-sex attraction itself is sin you are effectively saying you need to repent of being fallen. And I am not quite sure what that means or what that looks like. And I certainly think that goes further than the bible does…And I think to then say to that person, 'actually that you are experiencing same-sex attraction itself is a sin' I worry that could crush someone who is already feeling very tender" (Is Same-Sex Attraction a Sin?, emphasis added).
Now we see more clearly the connection between Allberry and TGC and Moore: to prevent the soul-crushing effects of guilt.
This would explain Moore's blanket denunciation of parents exercising their God-given authority to maintain moral purity in their homes. Of course, he did not use so many words but the idea was unmistakable, as the Christian Post reported it in the aptly-title article, Russell Moore to Parents: Don't Be Ashamed of Your Gay Kids, Don't Throw Them Out; That Is Pride.
This is the appeasement of the consciences of homosexuals.
Sinners ought to feel crushed by sin. Homosexuals ought to feel crushed by sin. But then they ought to flee from sin and cling to Christ. And they may yet struggle with this internal rebellion for the remainder of their days.
But how can they fight sin when sin is no longer sin?
If the attraction of sodomy is not sin, then why are the actions of sodomy a sin? And if the actions are sins, are not the desires that lead to the actions sin? Sin begets sin. A rotten tree brings forth rotten fruit. Something has to give. This compromise cannot stand.
Attraction to sin is itself sin. This is why Allberry has these desires and feelings. We were born in sin and we sinned in Adam.
"Behold, I was brought forth in iniquity, And in sin my mother conceived me." (Psalm 51:5)
"Therefore, just as through one man sin entered the world, and death through sin, and thus death
spread to all men, because all sinned." (Romans 5:12)
This is not an abstract problem. Sin and the Gospel are inseparable. Mess with one and the other changes. And never for the better.
As a trained minister, Moore ought to know this. So why does he use Allberry as the face of ERLC on the questions of homosexuality? At best, he disagrees with him but is willing to allow such an overt error. At worst, he agrees with Allberry.
If he does not agree, then he ought to remove those videos and offer a public retraction of these theological errors. If he does agree, then Moore should step down. Now.
As it stands, Moore and the ERLC use these videos as accessible answers. Viewers of that site will only come away thinking this is what the SBC believes.
What is the connection between Russell Moore, the Southern Baptist Convention and the heinousness of homosexuality?
It is the denial of the heinousness of sin. It is the denial of the culpability of so-called same-sex attraction. It is the soft-peddling of homosexuality. It is the beginning of the end of the collective conservative Christian stand against the onslaught of wickedness.
[This is part of a multi-part series investigating the subtle changes in conservative views on homosexuality. Series here.]
My twitter handle: shawnmathis1972