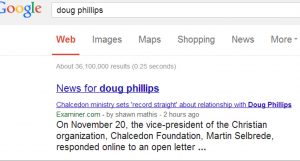 I was one of the first news-sources to write on Phillips' resignation, back in 2013 (thanks to my wife discovering it on facebook). Almost all my articles were published in the Google and Bing news-feed searches (under examiner.com), coming up first under the search "Doug Phillips." For historical sake (and the possible future-return of Doug himself), they are republished here.
Doug Phillips News: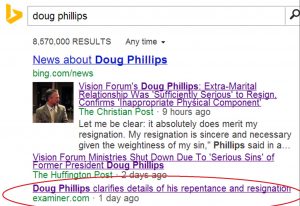 Doug Phillips of Vision Forum resigns due to affair
How to respond to Doug Phillip's confession and resignation
Chalcedon ministry sets 'record straight' about relationship with Doug Phillips
Doug Phillips' church issues disputed statement about his repentance
Questions about the disappearing works of Doug Phillips
Will NCFIC and homeschooling groups imitate HSLDA's apology about Phillips?
Doug's Ministry Critiqued:
Who is Doug Phillips the Homeschool Speaker?
Cult of Personality: Lessons for Homeschoolers from Doug Phillips Ministry
An extended analysis of the claims of Doug Phillips
Doug Phillips at US history conference: "We are legacy-builders"
Vision Forum's conference ends with panel about US legacy, future of freedom
Vision Forum's US History Mega-Conference reviewed