Imagine being a pastor interviewing a youth group volunteer. Imagine being a pastor interviewing that volunteer knowing he was a pedophile. Imagine being a pastor interviewing that volunteer satisfied he was a celibate pedophile able to work with kids.
Who would do such a thing? Megachurch pastor John Ortberg would and did. That's how 2020 started out.
But why should you care what goes on in other churches? Because this could happen in your church, in your denomination. We have to know what is going on in order to react correctly.
Paying attention to this gay author or that queer-sympathetic pastor, we can see trends. There are trends in how gays in churches present themselves compared to the rest of the queer world. And there are trends in how churches engage with these gays.
By paying attention to the trends, we can learn how to engage with them or how not to engage with them. The Ortberg fiasco is an example of how not to engage.
It turns out John Ortberg not only allowed a pedophile to work with kids, he did not inform the other leaders of the church about it. No one knew but John and John's transgendered daughter. And she blew the whistle.
Mid-year, the daughter revealed that the youth group volunteer schemed to be alone with boys. She did not know if there were any victims. But the name of the volunteer was known to her. His name? John "Johnny" Ortberg III.

What makes this matter worse is the rationale used to defend Johnny. The daughter explained their rationale: "[They believed in the] "Virtuous Pedophile" movement, whose values both he and my father defended to me—that close, unmonitored contact with children is therapeutic for pedophiles."
Here, we can learn how queers present themselves. Often, they want to downplay the sexual nature of their problem. For men especially, they are driven by a sexual urge. But instead of treating like other sins, such as drunkenness, they make excuses.
For a drunk, they are told to avoid bars. But for the pedophile, in this case, he is told to hang out with kids for "therapy." Similarly, many celibate gays downplay their urges, explaining that they need not avoid close friendships with guys. In fact, they need close male friendship. This is a trend.
Another trend is the claim that the Bible does not command them to be straight. Rachel Gilson of CRU (formally Campus Crusade) made that claim. And like pattern of other gay spokesmen, she published a book in an effort to remove stigma against queers. Last Spring, she published her autobiography, "Born Again This Way." The book was forwarded by Sam Allberry and endorsed by Karen Swallow Prior and John Bloom (co-founder of Desiring God).
The year would not be complete without the influential Ethics & Religious Liberty Commission (ERLC) of the Southern Baptist Convention. They follow the trend of parachurches and other ministries in trying to be relevant. To that end, they continue to offer questionable books about the gay world. For example, they offer Jered Kennedy's new e-book, Teaching Your Children about Gender, free on their ERLC website.
In an era in which gender roles are being systematically trashed, Jered's book is unhelpful. He does not reinforce the gender roles. Instead, he warns readers against stereotypes. This opens the door for boys to think effeminacy is OK. In an over-sexed society, he also believes parents should ask six-year-olds if they know what "transgender" or "bi-sexual" means. Six-Year-Olds!
But a review of 2020 trends would not be complete without mentioning the Presbyterian Church in America (PCA) and Revoice.
In the PCA, another gay church leader showed up, making a splash with his tweets. Art Pereira of Hope Church PCA in New Jersey shut down his twitter account because of a fiasco (see picture below).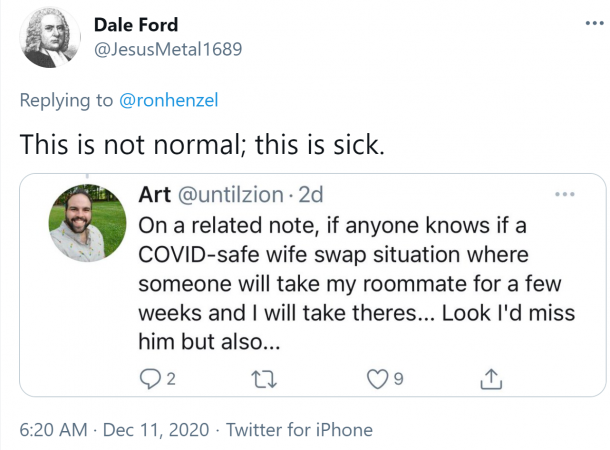 But he did not go away.
He showed up in December 2020. At Revoice.
That warrants its own posting.
Until then, keep praying, investigating and working to protect our churches.