In an under-the-radar event, pastor Joseph Morecraft of the popular Counsel of Chalcedon magazine and founding pastor of Chalcedon Presbyterian Church, is no longer a member of that church nor the Presbytery he resided in.
While under discipline of the Reformed Presbyterian Church in the United States (RPCUS), Morecraft sought membership in another Presbyterian denomination. The RPCUS publicly announced this sudden turn of event in the spring:
"Friday, April 17, 2015
Pastor Joe Morecraft was removed from the membership of the Covenant Presbytery, RPCUS under discipline at the Stated Meeting of April 17, 2015 and the pastoral relation between him and the Chalcedon PC dissolved. He has been received by the RPC Hanover Presbytery as a member without voting rights, and as per his request, the two indictments against him and additional documents have been communicated to the stated clerk of the Hanover Presbytery.
We are disappointed that the judicial process was incomplete due to his failure to remain in the Covenant Presbytery, RPCUS and cooperate with the process."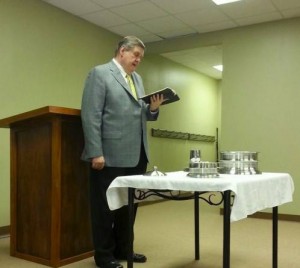 There is no public indication from the Hanover Presbytery of what they decided about the two indictments against Dr. Morecraft.  However, he is currently administering the Lord's Supper, indicating full fellowship with the Reformed Presbyterian Church, Hanover Presbytery. He is also listed on the Heritage Presbyterian Church website as its leader.
The specifics of the indictment are not given beyond the following:
"The indictments were the result of more than one year of disruption at the presbytery level regarding the nature of Presbyterian government and polity, and were set before the presbytery in her called meeting of March 9, 2015. In this same meeting the Session of the Chalcedon Presbyterian Church of which Pastor Morecraft was the pastor, asked the presbytery to investigate the session and both pastors: 'Given the grievous nature of the situation that has developed between our pastor and the Session, and its disturbing and adverse effects on the congregation, we are appealing the whole matter to Presbytery for an investigation.' "
Although he has some strict views other Presbyterian denominations would disagree with, overall, he is considered an upright man with sound doctrine.
[9.2.15: I am in the processes of contacting the Hanover Presbytery to get a public statement from their end. And as I noted several times in the facebook comments, we do not know the details of this turn of events so we should not draw hasty conclusions.]