Colorado is one of three potential pivotal states in this race. It can come down to us people!
Thus says Steve House, Colorado GOP Chairman.
The Jefferson County Republican Men's Club was honored by the presence of Steve House. He gave an informative talk that offered some good insider information for my Colorado audience.
He's a hard working chairman who has traveled the state in three days to get the message out. He not only talked at big and small events alike, he went door-to-door.
And he's a Trump supporter.
Current polls indicate every ballot initiative is passing save 69. That means we may lose the ability for the common man with little money to start good measures (like TABOR) via the misguided 71. It turns out the backers of that initiative think the amendment system is broken (as to many anti-71) and they want more power in the legislature.
Let that sink in.
The RNC is invested in a Colorado win and gave more money for callers to remind people to vote.
It was an informative and helpful meeting. And at the e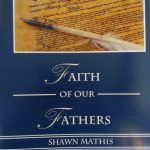 nd of the talk he was handed a small packet of a pamphlet and essay and (from now on) a flier about the "Faith of our Fathers" from a local Presbyterian that some of my readers may know.