Something was nagging at the back of my mind while researching the growing acceptance of gay Christians among conservative and Reformed communities. The stories, the books, the argumentation, but especially the sentimentality, was too, well, effeminate.
Now we live in such an age that these opening words may likely turn off half my audience. If only I made the proper caveats such as "when I use effeminate, I do not mean to impugn wide-swaths of women." Certainly, while I was growing up and expanding my vocabulary to include effeminate, that definition never came with a caveat.
The caveat is demanded because more and more Christians seem uncomfortable with the sex that God made them. Now, that does not mean that Evangelical men will be buying skirts any time soon. Nor will Reformed women start wearing combat boots (well, not most).
Cross-dressing, presumably, is still wrong.
But cross-dressing words not so much.
In an article surprisingly published in the Aquila Report, the author, one Dr. Valerie Hobbs, has valiantly donned her gear to purge the church and society of "toxic masculinity."
Her zeal in eradicating this amorphous, ubiquitous and invisible toxin has brought her to recast how we today might hear a familiar passage (1 Corinthians 16:13):
"Consider therefore how Paul's metaphor might translate to all our ears today:  'Be on the alert, stand firm in the faith, act like women, be strong' " (emphasis original).
Why would someone write that? What is wrong with "act like a man"—a common and acceptable translation of the Greek word behind it?
What is wrong with it is that it is not egalitarian enough. Hobbs' stated goal in this fiery essay is replacement of toxic masculinity with "equality and fraternity."
This equality does not (I think) extend to the physical realm but certainly to the realm of character:
"Men and women have their differences, but what I'm arguing is that a Christian's strength of character isn't derived from their sex but from the object of their faith."
And this strength of character is so consistent, so obvious and so powerful that men ought to follow it: "men would benefit not from 'manning up' but from looking for inspiration in an overlooked place: the sacrificial strength of Christian women."
We know that women not only have strength of character in general but courage, that "inner warrior" found in "those who have fled dangerous homes and faced poverty and great uncertainty, at great risk to themselves and their children; to the women who have put their bodies between an abusive spouse and a child…"
In short, if Paul were to write that verse today, he could have easily written as Dr. Hobbs imagines effeminate listeners today would admire: "act like women"!
I did it again. I used that word effeminate.
But why? Why do we have man up and effeminate?
Because language is supposed to express reality. And for thousands of years among thousands of societies the collective experience of humankind is that men and women not only look different but act different because they think different.
And it turns out modern science has verified many of those observations that we took for granted until the last fifty years.
Even the progressive-minded Stanford has to admit there is something to the age-old observation of personality and behavioral differences in the 2017 edition of Stanford Medicine and their blog. Strong cross-ethnic and cross-national studies have shown that the personality differences have become more pronounced in advanced societies where men and women are free to be themselves.
Recent digging into the personality (characteristic) differences indicates greater differences than scientists realized. And the differences are not reducible to social conditioning. Society makes a difference to be sure but biology is stronger. Brain analyses show differences between men and women in emotional and reasoning control and that men (typically) regulate emotions differently.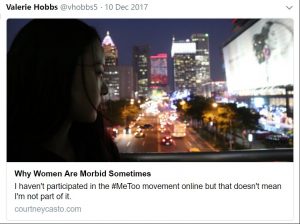 There are social differences being unearthed as well, revealing that men and women approach cooperation differently, with women tending to be more cooperative in mixed-sex pairs.
This sampling is enough to show that men and women are different and the differences (although statistical) are real enough to impact social relations in all spheres of life. And although courage is not a specific quality often investigated, the studies that do exist suggest (again) that there are sex differences.
Courage is going to be differently manifested in the sexes because men have greater upper body strength, more muscle mass, etc. That gives them some ground to stand against an assailant in a dark alley. Whereas the typical female should run under similar circumstances. This points to the fact that "strength of character" is a relative term, depending upon the circumstances and the persons involved.
And this is a clue to understanding how confused Hobbs is on this topic. She absolutizes what is relative. When God calls us to be courageous, does He mean that children of the covenant should manifest the same type of courage as an adult? Would Hobbs flatten the differences between adults and children in the name of fraternity and equality?
Then why flatten them between men and women? The reason suggested is because the object of faith is the same for men and women: Jesus Christ. But so what? This is a non sequitur begging to be unpacked and explained and defended not assumed.
Such reasoning would lead to full-blown egalitarianism, a capitulation to the Liberals of old.
How? Consider: "what I'm arguing is that a Christian's qualifications for office isn't derived from their sex but from the object of their faith." Being a Christian does not change the character of being a man or a woman. Hobbs has to prove and not assume that sex differences do not affect character.
It should not be overlooked that Hobbs specified "leadership, strength and courage" as masculine qualities, complaining: "For some complementarians, these verses and others like them demonstrate that leadership, strength, and courage are primarily masculine, that is, they are qualities God designed men (and not women) to have" (emphasis original).
But who makes such claims? Even the science I offered above does not deny that women have courage as such. Rather, the use or quality of such courage is different depending upon the sex. In other words, man up makes sense given that the vast majority of men can and do courageous acts when many women would not in similar circumstances (like war).
On the other hand, the courage that women display is different insofar as women and their circumstances are different. Almost all the examples of the "inner warrior" offered by Hobbs are female examples. Sure there are men under similar circumstances who would wither under the pressure. But the bulk of men would likely not wither. That is what a statistical reality means: the average of one sex is different than the other.
This essay could end here. The science has collaborated what we see by the light of nature and witness every day: men and women are different, even in extent and usage of specific character traits. And being a Christian who trusts in Christ does not change biological reality.
But even if we had no science and no universal observations, the mere fact that God created male and female in two different ways for different purposes should be enough.
Adam was created first. This is why he leads. Eve was created second. This is why she follows.
"And I do not permit a woman to teach or to have authority over a man, but to be in silence. For Adam was formed first, then Eve" (1 Timothy 2:12-13).
But the order is not only significant, how they were created is significant as well. God made man out of the earth. And He made woman from man's side. Why from Adam's side? Because Adam needed a helper fit for him.
Would God make man a body that is geared toward strength (muscle mass, upper body strength, etc.) but not gear his personality to use the body for its design? Would God make woman a body that is geared toward nurturing but not gear her personality (character) to use the body for its design?
Did God give roles to the sexes on a whim? Or did he create them, male and female, such that he equipped them for their roles?
Woman can be and are courageous. Men can be and are nurturing. But the bulk of either sex is not relative to the other. Being made in the image of God or remade in the image of Christ does not change that. And neither does cross-dressing language.